About: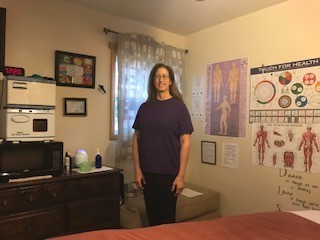 I began my Massage Therapy career by attending the McKinnon School of Massage in Oakland, Ca in 1983. Being an athlete (swimmer, weight lifter), I was interested more in Sports massage. I worked for a Sports Massage Chiropractor that was affiliated with U.C. Berkeley; California Bears Football Team.
From 1983-2002; I worked with Chiropractors, Spas, Athletic clubs and private practice. During that time, I logged over 35,000 hours of massage.
After moving back to NJ in 2007, I attended Healing Hands Institute in Westwood, NJ for retraining in 2008.
I worked for Chiropractors, spas and presently at my Stanhope Home Office. I also travel for In-home or Corporate massage: table or chair.
Although most of my clientele are crossfit athletes and prefer deep tissue, each massage is customized daily to reflect the ideal pressure per each individual.
Advanced Training:
2018 Level One and Two of Touch for Health; Kinesiology
2019 Myofascial Release: by John Barnes
89 Brooklyn Road, Stanhope, NJ 07874 | (201) 739-0965 | Site Developer: Vic Pavlick